Sofiyska Voda, operated by Veolia, won the competition announced by the Bulgarian Water Association for "Best Potable Water Treatment Plant".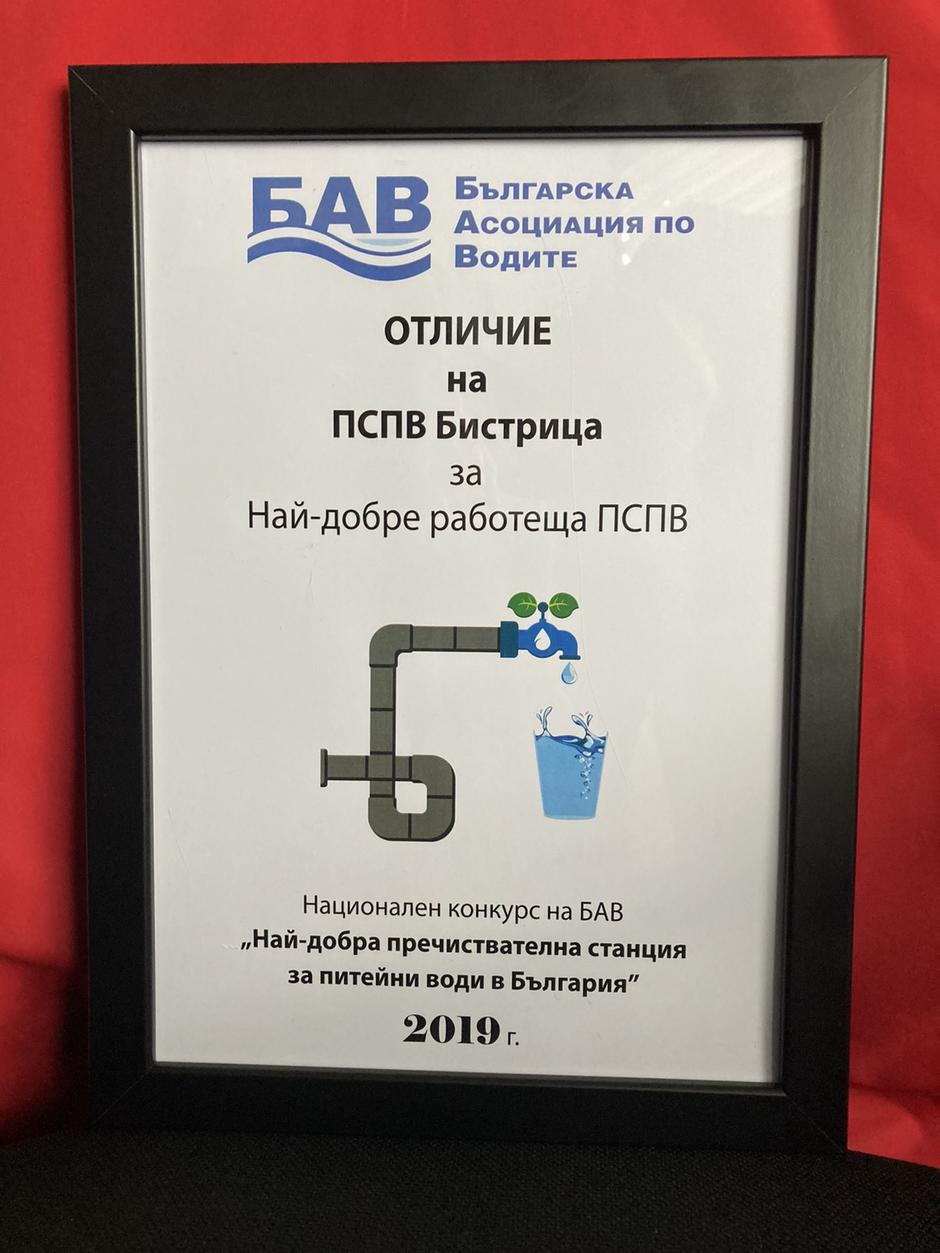 The results were presented during the national seminar on potable water, held in the village of Starosel. 
The objective of the announced national competition was to acknowledge the most effective technologies used in potable water treatment. For that purpose, the participants had to answer a pre-defined detailed questionnaire. 
Vladimir Stratiev, member of the Board of the Directors of Sofiyska Voda AD, was handed over a plaquette and honorary diploma personally by the Minister of Environment and Water Emil Dimitrov.
On the occasion of the well-deserved award for the team at the plant, Vasil Trenev – Executive Director of Sofiyska Voda AD shared:
"It is another recognition of the excellent work and accomplishments of the team of Bistritsa PWTP – showcasing the activities of the WSS operator Sofiyska Voda. I want to emphasize that the prize is an achievement of the managers, the specialists and the people at the plant and I just want to say that I personally and we are all proud of them because without their efforts, technologies would not yield the same results."
Bistritsa PWTP was commissioned in 1999 and at the moment it processes most of the water coming from Iskar dam for the potable needs of Sofia /around 800,000 residents/.
The treatment technology allows the removal of the deviations under all microbiological parameters registered at the inlet of the plant, the occurring turbidity and color, as well as the episodic nonconformities of aluminum and iron, described in Table A of Ordinance No. 9 on the quality of water intended for drinking and household purposes.
The quality of potable water from Bistritsa PWTP, as well as in the other treatment plants of Sofiyska Voda is guaranteed by the monitoring online system and by the Laboratory Testing Complex (LTC), located on the territory of the plant, which constantly monitors the parameters of the inflowing raw water and the outflowing treated water.  
Since 2010, when Veolia entered Sofiyska Voda, reconstructions of different parts in the plant were made, which improved its efficiency and security and optimized the operational costs. At the moment, 100% automation of the process management on its territory is achieved.