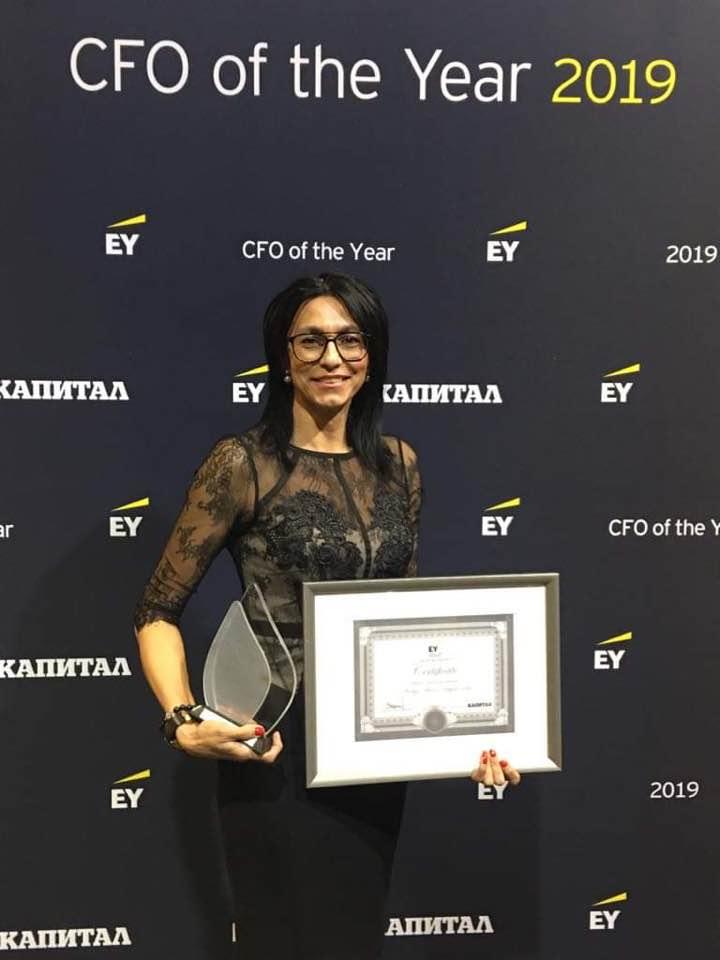 The most valuable capital of Sofiyska Voda AD – the employees, was given again recognition. Anelia Ilieva, our Finance Director, received the 2019 CFO of the Year award in the sixth edition of the competition of Ernst&Young Bulgaria in partnership with Capital newspaper. The awards were presented at an official evening event in Paradise Event Center in the presence of leading companies in key sectors of the Bulgarian economy. 
The categories this year have been "refreshed" in order to ensure that the criteria meet the growing role of the CFOs in the development and progress of the business. The candidates had to show and prove their qualities also in the finance function transformation, innovations, strategy and business partnering and the team development.
In her category "Control and Reporting" Anelia Ilieva defeated the other two competitors. The decisions of the panel determining the winners are taken simultaneously and independently, after a separate voting according to a score system of the competition's organizers. This year's panel of judges included Bistra Boeva, Prof. D. Sc. (Econ.), University of National and World Economy, Daneta Zheleva – CEO of Industrial Holding Bulgaria, Nikolay Genchev – CEO and Chairman of the Board of Insurance Company UNIQA AD, Todor Breshkov – Managing Partner, LAUNCHub, Alexander Pulev, Director Investment Banking, UniCredit.
In her words before the representatives of her community, Anelia Ilieva, who grew professionally in Sofiyska Voda, operated by Veolia, stressed the merits of the team she is leading for winning the prestigious award. The competition is an opportunity for recognizing achievements, an attestation of the high standard of work and aims at disseminating innovations to the business.
The awarding was attended by the Executive Director of Sofiyska Voda Vasil Trenev, who stated that the deserved recognition was yet another proof of the potential of the company's employees. He expressed his expectations for further recognition of the efforts, competence and dedication of the employees of Sofiyska Voda AD.