For a fourth consecutive year Veolia in Bulgaria gave young students the opportunity to take part in the Veolia Summer School and become acquainted with sustainable development and circular economy.
The 10th edition - Veolia Summer School 2019 brought together 36 students from 31 universities in 20 countries.
During the 10 days of training on the Veolia Campus, located close to the French capital Paris, the students discovered the Group
activities, met operational and HR managers and visited industrial and municipal sites, which are important for the city and are operated by Veolia. And to better understand sustainable development and circular economy issues, they worked on a specific case study, Smart City 2025. Their goal was to design a global, intelligent and digital solution for cities combining the three Group activities - water, energy, waste - in a single strategic vision.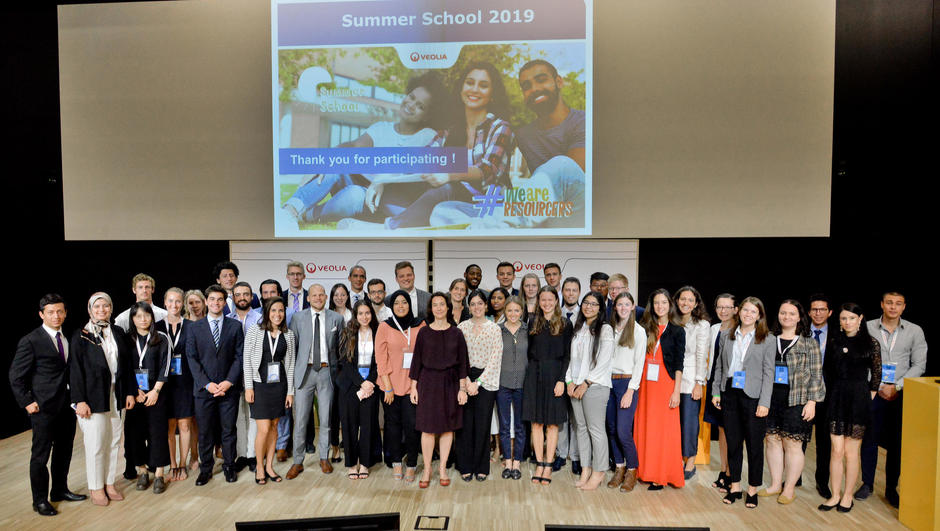 Two Bulgarian students were given the opportunity to present our country in the new edition of the program. Kremena Decheva from the Faculty of Biology of Sofia University "St. Kliment Ohridski" and Dimitar Iliev from the Technical University of Varna.
After their return we asked them:
Veolia: "What did you know about Veolia before your participation in the internship program and after that?"
Kremena: "I linked Veolia mainly with its water management activity and in particular Sofiyska Voda. After the end of the program I realized the actual scale of the company and its responsible goals."
Veolia: "What should everyone know about Veolia? "
Kremena: "In my opinion the company stands out with its attitude towards the employees, pursuit of creativity, innovation, continuous development and improvement. I realized that in Veolia safety comes first. The company also tries to apply the circular economy principle at every possible moment in order to be both customer- and environment-oriented."
Dimitar shared his impressions of the project "Smart City 2025":
"In addition to getting to know Veolia as a global company delivering environmental services, we were taken by the project managers on a field trip to Veolia's sites in order to get acquainted with their operation and speak with experts in the specific areas – energy, water and waste.
Owing to the granted access, we all who were involved in the project, managed to learn a lot about the processes of water treatment and waste recycling for energy production."
You may watch the Veolia Summer School 2019 video here.
---
The objective of the Veolia Summer School is to build a pool of talents, some of whom could join the Group at the end of their studies. This summer school strengthens the links between universities, students and Veolia on three key topics: geographical, curricular and gender diversity, commitment and responsibility to environmental issues, and finally pleasure and conviviality.
Veolia Summer School has already trained 363 young graduates. Veolia was the first company in the environmental services sector to launch its Summer School in 2010. Further information for the closing ceremony held on July 8th is provided here.