The reconstruction and displacement of a water main along Jawaharlal Nehru Blvd. in Lyulin VI and VII with value 890,000 BGN will continue to the end of September, 2017. The existing steel water main, mounted in an underground protection duct, is highly worn out and is with a very high concentration of failures, and the access for their removal is extremely difficult. It is expected after termination of the work on it for the water supply service to be considerably improved.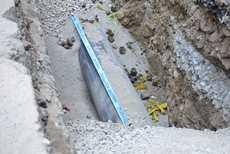 Sofiyska Voda has been accomplishing significant repairs also in the capital's center. In collaboration with the Municipality of Sofia the reconstruction continues of the street sewers in the north and south lanes of Dondukov Blvd., Bacho Kiro Str., the water mains along Sandor Petofi and As. Yordanov Blvd. 
The existing sewers in the north and south lane of Dondukov Blvd. are in extremely bad structural condition in different sections, and their service period has expired (the south sewer was constructed in 1899 and the north one – in 1929). The root system of the trees affected seriously the pipes and there are clear cracks and deformations requiring the urgent replacement of the pipes. Sofiyska Voda will invest around 600 K BGN in this priority investment project and its implementation is key for the sewer network in the center of the capital. The aim is to ensure normal drainage of the municipal wastewater and reduce the risk of flooding of the residential and administrative buildings nearby, as well as a collapse in the busy boulevard.
Reconstruction of a street water main and sewer is also performed in Slivnitsa Blvd.
The step by step construction of a separate sewerage system in the village of Voynyagovsti continues and the water main is reconstructed in parallel as the asbestos cement pipes are replaced.
Brand-new customer service, improvement of the WSS infrastructure, the water losses reduction and environmental investing are among the main objectives in the new business plan of Sofiyska Voda for the period 2017-2021. In this period the company will invest more than 200 million in Sofia WSS infrastructure.
The WSS network in Sofia is 5.500 km long and its consistent replacement and maintenance guarantees its reliable functioning and high water quality. 
You may check the quality of the supplied water in your residential area here.