He was a special guest and partner in the event and had the opportunity to award the winning municipalities this year in the 4 categories Sustainable Water Management, Sustainable Waste Management, Energy Efficiency of Buildings and Sustainable Mobility. It became evident during the ceremony that the organizers of the initiative from the French Embassy in Bulgaria will add two more categories.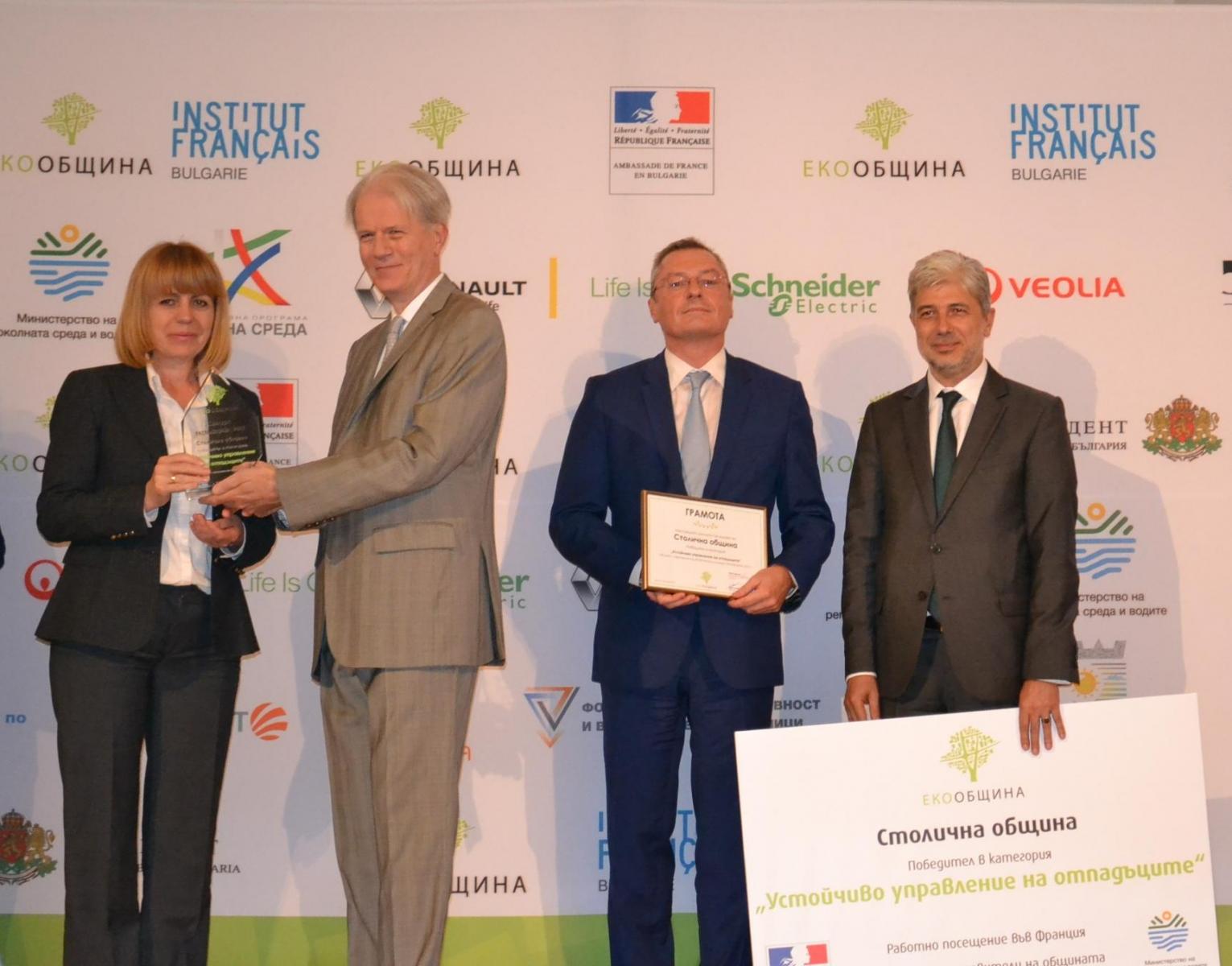 The event which is held for a second consecutive year is initiated by the French Embassy in Bulgaria under the patronage of the President of the Republic of Bulgaria and in partnership with the Ministry of Environment and Water and the Ministry of Regional Development and Public Works. 
Yesterday's ceremony in the French Cultural Institute was attended by the Minister of Environment and Water Neno Dimov, the Deputy Minister of Regional Development and Public Works Denitsa Nikolova and the Mayor of Sofia Yordanka Fandakova - who received the award for the Municipality of Sofia for waste management. Arnaud Valleteau de Moulliac, Deputy Country Regional Director of Veolia for Bulgaria and Executive Director of Sofiyska Voda, took part in the ceremony on behalf of Veolia Bulgaria. 
The winners in the ceremony yesterday, one of its kind competition for municipalities where best practices in the field of sustainable development are applied this year are: Samokov Municipality for developing bicycle and pedestrian transport, as well as for the project for promoting the use of electric vehicles, followed by Burgas for developing fast bus lines, the use of electric cars and the construction of more than 80 km of bicycle lanes; Dragoman and Pavlikeni for the successful and gradual renewal of the water supply and sewerage infrastructure; Smyadovo and Gabrovo for successfully implemented projects under the energy efficiency program; Zlatograd together with Sofia for successfully implemented project for waste management.
Thirty-seven municipalities took part in the second annual competition.