"Veolia has always sustained corporate social responsibility and I congratulate the company for their leadership behavior", with those words Ms. Ivelina Vassileva, chairman of the Standing Committee on the Environment and Water placed the beginning of the discussion forum on the theme "Circular economy: Big dreams become practical solutions" organized jointly by Veolia and the Biology Faculty of Sofia university. She also added that every day should be an environment day so future generations can live in a clean and healthy environment in the presence of resources.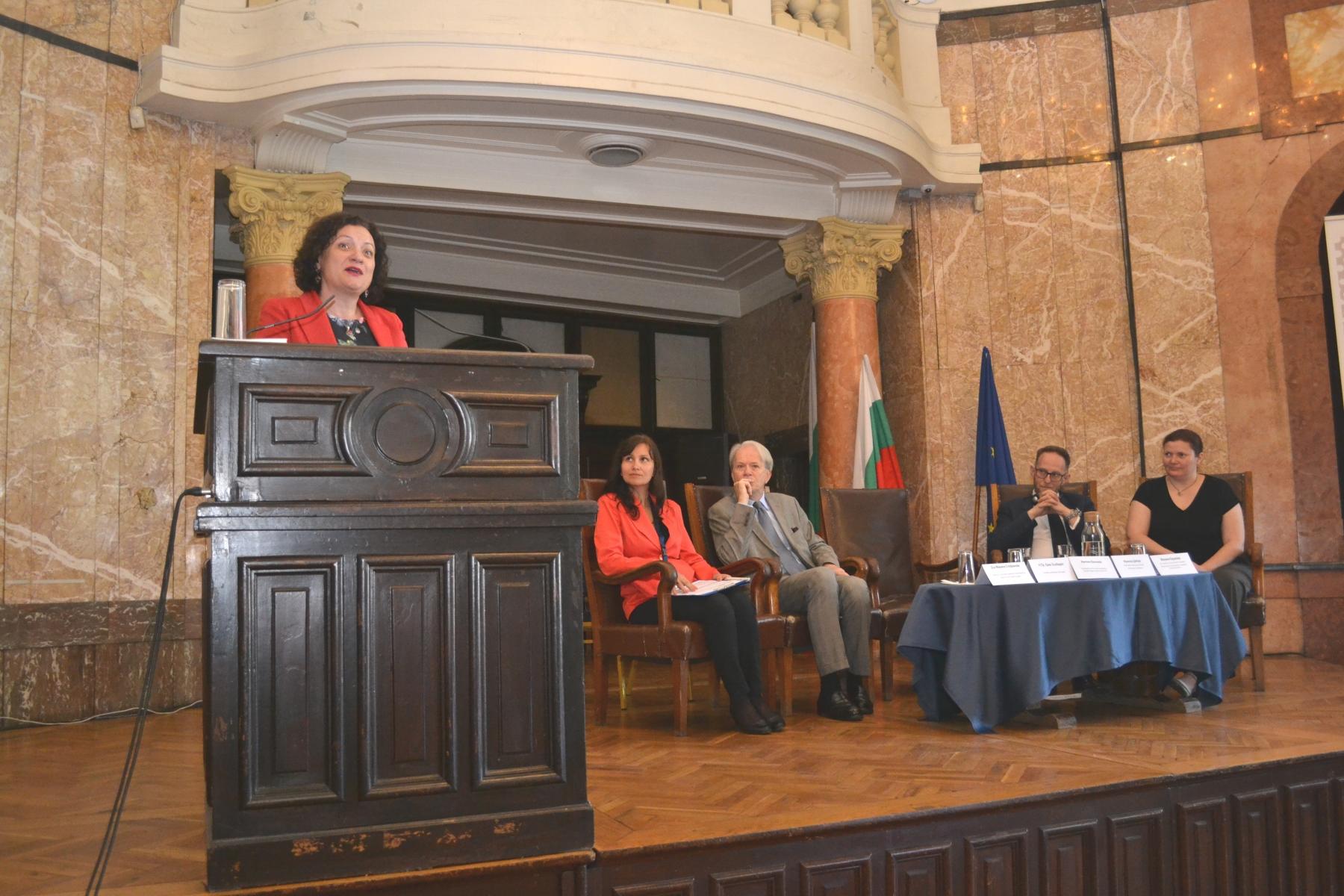 In this forum the international company Veolia, which is specialized in water, energy and waste management, gathered institution, business and science representatives on 5th June - the World environment day. On the discussion in Sofia University were also present Ms. Malina Krumova, deputy minister on the regional development and public works, his Excellency Eric Lebedel, Ambassador of France to Bulgaria, Mr. Francois Debergh, regional director of Veolia for Bulgaria and the Balkans, representatives of Bulgarian startup companies with contribution to circular economy, multinational companies and guests of other countries. 
Ms. Malina Krumova - deputy minister on the regional development and public works also congratulated Veolia for the initiative of the organization of the event with an international participation and she stated that "Veolia is a leader in the implementation of energy and resource efficiency in the Water and Sewerage Sector in Bulgaria."
In the conference also took part startups for innovation in the field of circular economy in Bulgaria - NASEKOMO, Cupffee, Sea Harmony and other. There were introduced successful examples of different countries. Representatives of multinational companies like Coca-Cola and other also shared their experience. 
"Everyone has to join so we can achieve sustainable development - politicians, businesses, science, NGOs. This maybe is not the fastest, but it is the most rightful way. This is the reason we are organizing this forum. We began in 2015 with a discussion in a tighter circle, but we have the will to continue working for the achievement of circular economy and the preservation of resources not only in our practical work, as we do every day. We will also achieve it by placing the circular economy theme on the agenda in society", said Arnaud Valleteau, Deputy country manager for Veolia in Bulgaria
It is not easy to lead an energy independent business in Bulgaria, but it is completely achievable. For example the Wastewater treatment plant of Sofiyska voda in Kubratovo is completely energy independent since 2015 and is also an example for innovation and successful practice worldwide, said Stanislav Stanev, Exploitation Director of Sofiyska voda. 
The way that businesses and science are making a revolution together was shown by Prof. Yana Topalova of the Biology department of Sofia University. She also presented the competency center in which several universities cooperate together with the businesses and companies such as Sofiyska cooperate for science projects.  
The sustainable development is not only an idea, it is also a decision and responsible behavior of each one of us. "From today on everyone should make a resolution to himself about his actions during other days of the year and how he protects the world and the place, in which his children will live. We, from Veolia constantly take care about protecting the environment", said Mr. Francois Debergh, regional director of Veolia for Bulgaria and the Balkans. He also stated that the company will continue to actively work for the circular economy and will organize many upcoming events of this type.