We optimize the technical, economic and environmental performance of your facilities
How can we help you?
As an expert in multi-site operations in various sectors, Veolia offers personalized services for Integrated Facilities Management to businesses, thereby optimizing service, quality and cost.
We also recognize the changing demands on this sector, necessitating flexibility and adaptability of the services. Therefore, scalability and a spirit of partnership are key ingredients of our approach.

The wide range of specialist expertise that Veolia holds, enables us to self-deliver all general and business critical hard services (including Utilities, Water Cycle and Waste), plus many of the soft services, with the following benefits: improve control, risk-mitigation, productivity & reactivity.
Optimal organization due to full services integration

Consistent and complete Risk Management

A global vision thanks to homogeneous reporting

A better economic contract performance

Best practices transfer across sites to achieve continuous improvement
How do we create value for you?
Carefully selected service partners are utilized for some specialist soft services. This optimum mix ensures best in class delivery and support for all the services in every geography.
Every service arrangement is subjected to KPI's and state of the art tools are used for monitoring and management of these, together with reporting and sharing information with our customers.
A drive for innovation and continuous improvement is at the core of Veolia's approach to performance and customer care.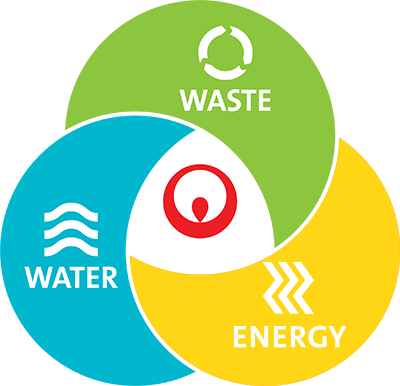 … performance evaluation on predefined indicators (KPI), traceable with the most advanced software tools
Optimization of technical, economic and environmental indicators
Achieving the set indicators (KPI)
Comprehensive risk management