Measuring pollutants, optimizing treatment systems and managing performance to guarantee excellent indoor air quality.
A glance at understanding the management of air quality inside buildings:
assessment of pollution
optimization of facilities
performance management
stakeholder involvement
Discover our animated film in 3 minutes:
1. AIR CONTROL: CONTINUOUS AIR QUALITY MEASUREMENT AND MONITORING
The benefit => Be aware of air quality to actively improve the environment
Step 1: Assess the level of air quality
Technical and health audit
Analyze the pollutants, odors and allergens
Install a continuous monitoring network
Potential pollution models and maps
Provide an air quality tracking dashboard
Step 2: Identify the potential sources of pollution
Process analyses and technical facility emission audits
Specific sampling at emission points
Diagnosis of the sources of pollution and their relative contribution
Step 3: Propose appropriate solutions
Advice of an expert to recommend improvements
Assistance in the event of a crisis or abnormal increase in pollution concentrations
Veolia's experience => 100 years of experience with sampling strategies and optimizing environmental monitoring tools; a selection of sensors approved by the best measurement laboratories (3 sensors approved in 2018 by AIRLAB, 2018 micro-sensor challenge); results checked by our air quality experts.
2. AIR PERFORMANCE: MANAGE AND OPTIMIZE FACILITIES AND GUARANTEE AIR QUALITY LEVELS
The benefit => Provide quality air in buildings
Step 1: Assess the air quality level
Diagnose existing facilities and sources of pollution
Install a network of communicating sensors
Interpret the results and propose an action plan
Step 2: Optimize practices and facility operation
Implement best practices in processes
Servicing and maintenance of air quality facilities
Adjustment of treatment systems
Step 3: Provide a results' guarantee and performance tracking
Specific air quality dashboard
Set monitoring thresholds to reflect needs
Summary reports of results and warnings
Recommended actions in the event of established thresholds being exceeded
Option: AIR Performance +
Improve existing air treatment facilities
Install new equipment
Veolia's experience => Proven expertise in operating facilities requiring air treatment (more than 42,000 facilities operated); Smart performance management centers: 23 Hubgrade platforms worldwide.
3. AIR HUMAN: INVOLVE ALL STAKEHOLDERS IN IMPROVING AIR QUALITY
The benefits => Make occupants, employees and users the "actors" in improving air quality; anticipate and prevent risks around the perception of air quality
Step 1: Make information about air quality accessible and understandable
Specific Web app
Air quality training modules tailored to the specific concerns
Step 2: Involve users in remediation actions
Interactive discussion interface for the stakeholders (report impressions, opinion surveys, etc.)
Creation of Air challenges (Air Day, etc.)
Step 3: Take into account the perceptions of the people concerned
Report tracking and dashboard
Objective discomfort
Take perceptions into account in the remediation solutions
Track the "well-being" indicator compared against air quality
Participative workshops about behavior and best practices impacting on air quality
Veolia's expertise => Constant commitment to involving all stakeholders (Commitment No. 4 of the CSR approach); diverse feedback from a worldwide group; efficient digital tools to communicate with the stakeholders; and social and societal scientific expertise in the area of air quality.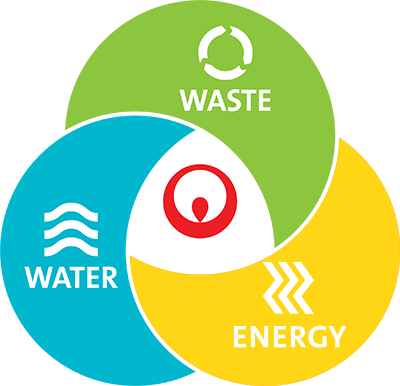 Veolia is uniquely positioned to service industry, government and commercial entities in improving performance, managing water, energy and waste
Disinfection of ventilation air in the administration part of the production site of LIEBHERR Bulgaria
THREE SERVICE MODULES TO ADAPT TO VARIOUS NEEDS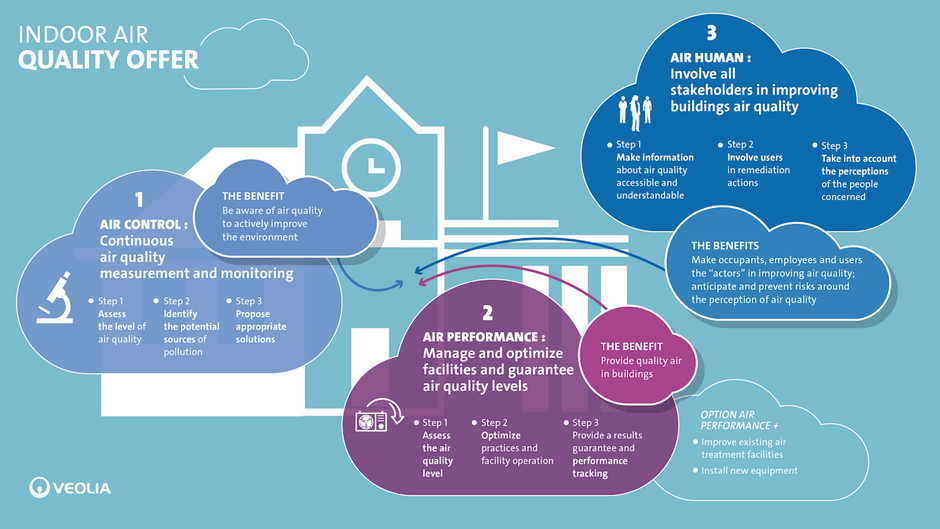 Optimizing treatment systems